Sunset is not a simple moment to tourists, it is the time when all mysterious and beautiful characteristics of a site suddenly appear. During the holidays in Vietnam, many travellers often spend some extra days just to have this opportunity. If you do not really know where to find a nice sunset heaven among 3 different regions in Vietnam, then you should put our 3 following suggestions in a list. 
Chau Doc
Located in Mekong Delta – southern Vietnam, on the border with Cambodia, Chau Doc is well-known for its interlaced waterways, unique floating markets and immense rice paddies. Here, you will have many choices for admiring the sunset. You might book a bamboo boat or some Mekong river cruises to relax, enjoy cool breezes and fresh air of the countryside, then laze with nature until the sun goes down. You might also pay a visit to Sam mountain at an elevation of 800 feet – a sacred home to many Buddhist temples and pagodas , where you will have an opportunity to witness not only the magical sunset but also a panorama of Chau Doc city, surrounding local villlages and even some parts of Cambodia.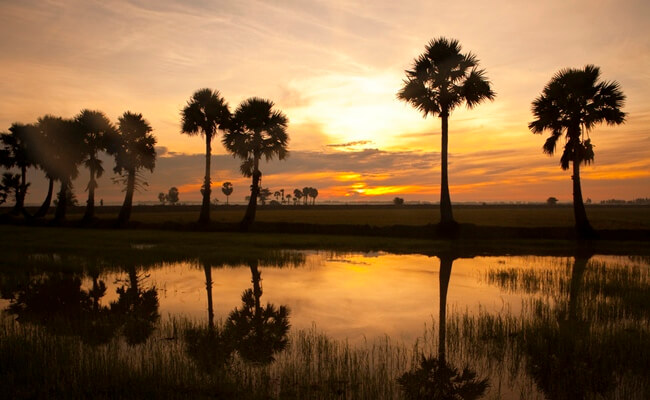 Photo: http://topmekongcruises.com/vietnam-to-cambodia-river-cruises
Hoi An
Hoi An is famous for not only its charming historical sites but also many ideal spots in Central Vietnam for sunset chasers. This ancient town used to be a bustling trading port in the past, which brought this town cultural and architectural influences from China, Japan and many other countries. To experience the best sunset in the town, you might need to hire a boat controlled by a local and then cruising on the romantic Hoai river. Another way to enjoy sunset comfortably and healthy is to ride a bike to the outskirt of the town to take some photos of Vietnamese countryside's scenery and observe the daily life of the locals in sunset.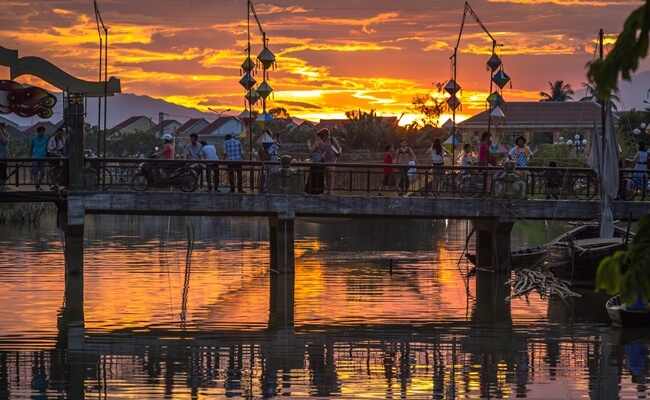 Tam Coc
Located in Ninh Binh, the border province of Northern and Central Vietnam, the scenery of Tam Coc is absolutely out of this world with stunning limestone mountains and islets surrounded by dreamy rice paddy fields. The tour to Tam Coc – the so-called "Halong Bay on land" will allow you to enjoy the sunset in a magnificent piece of nature. You can choose between cycling on the countryside roads near Tam Coc to see the real image of Vietnam countryside and taking a boat to explore a majestic karst system dating back to million years ago. However, the best way to enjoy sunset in Tam Coc is to walk to the top of Tam Coc's peaks, where you can have a lot of photographing and sightseeing chances.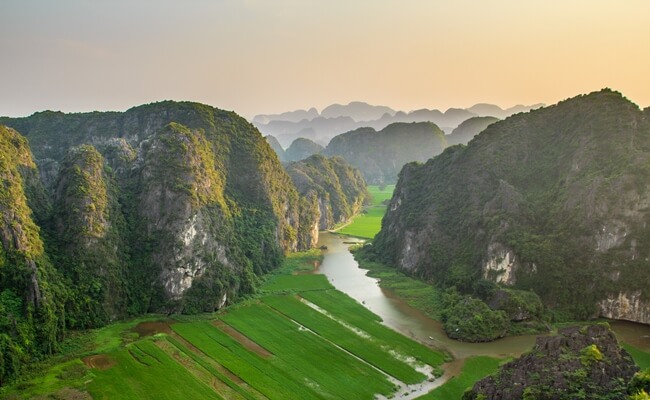 >> Want to explore more attractions in Vietnam? You will find some in our Vietnam private tours!